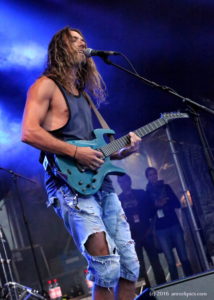 »Specific? Me? Nah!«
In July 2016 Century Media released a special reissue version of Pain of Salvation's classic 2002 album "Remedy Lane" entitled "Remedy Lane Re:visited (Re:mixed & Re:lived)" via InsideOut Music. Furthermore the band is working on a new studio album called "In The Passing Light Of Day". BetreutesProggen.de took the chance and asked bandleader Daniel Gildenlöw for more details (deutschsprachige Version des Interviews).
Daniel Gildenlöw, 2016 is a stirring year. You have spent a lot of time working in the studio. Your long-time label-partner InsideOut published your album "Remedy Lane Re:visited (Re:mixed & Re:lived)" on July 1st. And the reactions are very positive. How does it feel?
It feels very good. I had a good feeling about this year. As some of my fans (who follow me on Facebook) know, I named this year Garbo. I simply came to the conclusion that years need to be named, baptized. More so than many other things we choose to baptize in the modern world, I'd say. Haha. Well, in any case, Garbo is strict but just. We have this thing going, me and her. We have an understanding. (laughs)
You summarized the background of this re-mix project as follows: "Jens Bogren, aka Fascination Street Studios, approached us a few years after the release of "Remedy Lane", saying he was a fan of the band and kindly offered his services. He was later involved in "BE" and "Scarsick", but always in the periphery, since we were taking new directions in our sound and production by then. His true strengths lay in that impressive wall-of-sound type production that we had been aiming for with "The Perfect Element" and "Remedy Lane", and I always wondered how those albums would have sounded in the care of his skillful hands. Maybe it was time to find out?" Are you satisfied with the results?
It has been a curious adventure to travel through these recordings again, and it was nice to put a little focus on a few details that were a bit lost in the old mix. We really started from scratch, running all guitar signals through amplifiers and listening to it anew. At the same time, both Jens and I wanted to make sure that we stayed within the album's own universe and remained true and faithful to its legacy. If it ain't broken, don't fix it, sort of. It was a fine line to balance, but I think Jens did a wonderful job with it, as I knew he would, considering his long history with the band and that specific album.
And what about re-mixing "The Perfect Element" next?
We have nothing planned regarding this, I mean, the Remedy Lane Re:mixed just happened to strike me as a good idea since we were bringing up all these old mixes when rehearsing for the ProgPower USA show, where we played Remedy Lane straight through for the first time ever. It came natural, as a companion to the live recording of the show, so to speak. But now, a lot of fans have asked the exact same thing as you just did, so maybe we should consider it.
The second part of the release is a recording of your full-album live performance from ProgPower USA Festival from 2014. "Remedy Lane Re:visited (Re:mixed & Re:lived)" is available as 2CD Digipak, Digital Download or individually as "Remedy Lane Re:mixed" and "Remedy Lane Re:lived" on LP including the corresponding CD. Besides the black gatefold version, the album is released as transparent orange and clear vinyl. How many copies of these special editions are on sale?
I have no idea, to be honest. But there is a fixed number decided already before release, and they tend to sell out before the demand is filled, I've noticed. I usually end up not having the limited editions myself, since I often cave in and give up my own copy to someone who seems to be in bigger need of it, haha.
Do you own a record player?
Yes I do. Not any fancy modern hi definition super LP player or anything (musicians rarely have super expensive stereo systems, I've noticed – they usually spend their money on instruments and movie collections, or any other type of collection). For me, it all revolves around nostalgia and vibe. I found a cheap LP system from the 70s at a charity sale. It has a lot of personality and adds a lot of character to anything you play on it. I would love to have a very good LP player, but it needs to look right too, and feel right. Preferably made of fine grained wood with a smoke colored (brown or grey) plastic lid. Grey speaker fronts with silvery threads is king, and a tilted logo in the left upper corner. Specific? Me? Nah!
In 2014 Pain of Salvation performed this special Remedy Lane show for ProgPower USA, and another one for ProgPower Europe. Earlier that year you had to stay in hospital for many weeks due to a life threatening bacterial infection. The new studio album "In The Passing Light Of Day" is announced for later this year and you describe: "The album will see us go back to our heavy roots again, with a vengeance, and we all feel that we are writing a super strong new chapter in the history of the band." How is the new album influenced by your experiences from early 2014?
Well, a lot of it actually derives very specifically from my time in the hospital, using it as a point of view and departure for many other aspects of life. I won't give away anything more right now, but the connections will be quite obvious.
Currently you appear perfectly healthy and you spend a lot of time on sports. This seems to be like an act of defiance after you've escaped death narrowly. What impact had that serious disease on your life?
First of all, you can't call it sports. I might lose interest and drop out of it, should I begin to define it as sports, hahaha. Well, after having spent several months in the hospital, I couldn't walk a set of stairs once I got out. But I am a very stubborn man (few who have met me would argue against this fact), and I started paving my way back. My body has always been very adaptable, and I came back to health surprisingly fast, and simply kept going. It just dawned on me what a remarkable piece of machinery the body is, and it made me curious – if you pick up pace, why not use the momentum? So I started doing Capoeira and Parkour. My quite unrealistic goal (which are the only interesting goals) was to be able to perform a flat backflip ("flat" means on the floor/ground, without any trampolines, levels or such), at some point. I guess some part of me was pretty aware of the fact that this was an aim-for-the-moon-to-reach-the-treetops kind of goal to achieve at 42, without any background in sports or gymnastics. Luckily, I have other parts of me who do their best at tearing that side apart. Did I tell you I'm stubborn? When I nailed my first flat backflip (and yes, I was scared to death), one of my friends at the parkour said "sweet – that took me years to learn". He is one of the older guys there too. He is 17.
During your hospitalisation many Pain of Salvation fans accompanied your recovery on social media. You have received a lot of support from all around you and despite your bad condition you have been very creative. A highlight was a photo spread published on your Instagram feed where your alter ego "Mr. M", personated by one of your Mayones guitars, coped with life in hospital. Will we meet him again, maybe as a printed version in a nice little photobook or on canvas?
I have been toying with this idea myself. Creativity has always been my vent, and it always saves me when things look bad. When the first photo was published, my wife thought that, ok, either he is coming around, or he has lost it completely. I still hope it's the first, but then again, who knows…
I would love to see the photo series in a glossy square book, 24×24 cm, with the photos in 12×12, glossy images on matt paper. Specific? Me? Nah! Naturally, the book would come with a smoke colored plastic lid. Damn, maybe it was the second after all… (jokes)
"It's the gift of perspective, really" he thought, looking at the flowers. "A constant point of reference for your own health." A petal fell, and he smiled. On a good week, they die first.
The diametrical opposite of unplugged.

Ein von Daniel Gildenlöw (@danielgildenlow) gepostetes Foto am
…and there was always someone ahead of him in the shower line.
Artwork for your records seems to be very important for you, too. "Remedy Lane Re:visited (Re:mixed & Re:lived)" comes with revised artwork and an expanded booklet design. Have you already finished the artwork for your next album "In The Passing Light Of Day"?
Nope, I always try to work up a really high anxiety level first, and get in close contact with deadlines. Nah, but it's usually one of the last things to get locked in, since there are so many pressing things that need attending first. I do have a vision of what I want to achieve, and I have already worked closely together with photographer Lars Ardarve to shoot material for an idea we have. It'll be interesting to see how it comes together.
When is release day?
Last thing I heard was January 13 (I picked the date, it's a Friday of course) next year.
"In The Passing Light Of Day" is produced by Daniel Bergstrand (In Flames, Meshuggah, Strapping Young Lad, etc.). You stated: "This cooperation feels like a match made in heaven (or rather some other cool place that I actually believe in), and he was as thrilled to be working with us as we with him." Can you describe his influence on the recording?
Well, just like me, he is a man of detail, a man who is dedicated to his trade and is willing to go that extra mile whenever he feels there are improvements to be done. He is passionate, an artist. He will try anything and is ready to throw out an idea instantly if it doesn't work, abandoning his standard routines. At the same time he is very old-school in his methods and will stand his ground when he believes in something. Needless to say, I felt right at home in his presence. And the drum sound is stellar, it just poured out of the speakers the way I always wanted it to sound!
And please tell us more about this place you believe in.
Nah, it was just any cool place. As opposed to Heaven, which I simply don't believe in. A match made at Epcot Center? The Easter Islands? I don't know, just insert whatever is your own equivalence of Heaven, I guess. Santa's workshop at the North Pole…? Grand Canyon…
It appears that Pain of Salvation's recent albums were mainly shaped by mastermind Daniel Gildenlöw. Lately you have integrated the second guitarist Ragnar Zolberg more into the songwriting. How does this influence the new songs?
It's been nice to have someone to write with again. Musically, we were very much on the same page when we started working on the new album. We both had ideas for songs and passages, and stitching them together came very naturally.
Ragnar Zolberg lives in Iceland and Norway. Is it a challenge to reconcile the distance with the creative process of composing, recording and rehearsing?
Yes, very much so. But we have worked hard to make it work, and our lovely wives and families have stepped in and helped a lot.
Usually the release of a new album is followed by a tour. What can we expect?
We have to wait and see, but I guess we would be looking at touring USA and Europe next spring, maybe starting in February. Hope to see you all there! Full throttle! (laughs)
Daniel, we really look forward to hearing the new material. Good luck for the release and thank you for answering our questions!
On October 21st fans will have the chance to attend a solo performance of Daniel Gildenlöw at this year's GenerationProg Festival in Nuremberg.
Live-Foto: Monika Baus
Surftipps:
Homepage
Wikipedia
Facebook
Twitter (POS)
Twitter (Gildenlöw)
Gildenlöw @ Facebook
Gildenlöw @ Instagram
Spotify
Interview w/ Daniel on "Falling Home" (2014)
Interview w/ Daniel a.o. on the tour w/ Cryptex" (2012)
Interview m. Daniel zu "Remedy Lane" (2002)
All english interviews on BetreutesProggen.de