»I think what we have managed to do for the last two albums is that we have managed to package Evergrey in a package complicated maybe, structures and music, into a format, that 'common' people appreciate.«
Prior to the release of the tenth Evergrey album "A Storm Within", we had the chance to chat with Tom S. Englund (vocals/guitar) and Johan Niemann (bass) on a relaxed saturday evening via Skype. Here's what they had to say about the new record, old and new musical influences and what the future might hold for the dark progressive metal force that is Evergrey. (deutschsprachige Version dieses Interviews)
First of all, congratulations on 20 years and 10 albums of Evergrey!
Both: Thank you very much!
The new album "The Storm Within" will be released on the 9th of September. It will be the second album after re-uniting with Henrik  (Danhage, gtr) and Jonas (Ekdahl, dr) two years ago. Was the writing and recording process any different to the one for "Hymns for the Broken", or was it just like 'in the good old days'?
Johan: I don't know, I would say it was pretty much the same, wasn't it? The writing process is kinda running the whole spectrum from people coming in with whole songs to like just having a riff or an idea for a song and then us working up the song. So I would say it's no difference from before.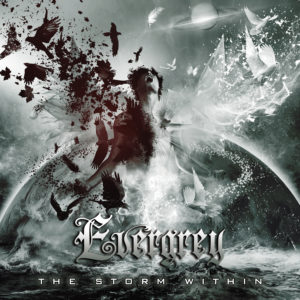 How do you think is "The Storm Within" different to "Hymns for the Broken" in terms of sound, mood and atmosphere and/or where do you see similarities between these two most recent records?
Tom: I think, I feel "The Storm Within" is like a bit a darker brother from "Hymns for the Broken" and he is not as convenient. He is a bit more awkward and a bit more edgy and a moodier guy and I think the sound is also a bit more clinical, where it needs to be, bleak. And I think the combination of this clinical, almost digital sound in aspect of the production in combination with the warm, analogue voices, it's what makes the production sound great. I think those are the key features. I think also that in "Hymns for the Broken" there was a sense of hope, and I think on this album the hope is quite a significant amount of kilometers away. Not much hope left.
Johan: Quite bleak, you know. Barren. Very dark. Not a very happy record.
…but nobody would expect that from you anyway, right?
Both: (Agree laughing)
Do you have any personal favorite songs on the album, apart from the video singles leading up to the release?
Tom: For me absolutely 'The Impossible'. It's very personal to me. But then I also love 'Disconnect', because it represents the whole album in a way.
Johan: It changes every time I listen to it. I listened to the record yesterday when we were flying over here. I was sitting in the bar at the airport in Stockholm, listening to the record and having a glass of red wine, and I was like having such a fucking super feeling about the record. I'm loving every song and especially 'The Lonely Monarch'. 'This is the greatest song ever' Then the next song comes up and I'm like 'Oh no no no, this is the best song!'
I actually got that feeling with the last three songs. 'The Lonely Monarch' is like a prelude to the epic closing section for me.
Johan: Yeah, it is! Talking about the last couple of songs, 'The Storm Within' is a favorite as well. It's unbelievable. And for me, 'The Paradox of the Flame' has a special place as well.
Tom: Did you mention every song now?
Johan: Yeah, I did. They are all my favorites! They are like babies.
Tom (with a girly voice): This is my favorite song in the world…
Johan: (laughs)
Tom: I regret that I didn't say 'The Storm Within', because that is one of the songs I feel absolutely most grateful of being in a band, recording music with friends that I have. And musically and lyrically it's one of those songs that I feel the absolute strongest about.
The song 'In Orbit', which features Floor Jansen, has one of the most accessible, straight forward and radio friendly choruses Evergrey ever did. Is this any indication of the direction you might go or can we expect more of the cinematic feel the title track offers?
Tom: I would say this is 1/11th of an album, so apparently it's like 8 % or something like that. So I think the chances for us going in that direction is about – 8 %. (All laugh) So it probably won't happen. But the thing is that I feel honestly that Evergrey are all those elements. And in a way also that song, when it comes to the bridge after the second chorus,it's one of the most progressive parts of the album as well. And so I think what we have managed to do for the last two albums is that we have managed to package Evergrey in a package complicated maybe, structures and music, into a format, that 'common' people appreciate.
The ultimate secret Evergrey weapon is still Carina Englund, who appeared on (almost) every Evergrey album so far. Her duet with you, Tom, on 'The Paradox of the Flame' is just heartbreakingly beautiful.
Tom: Thank you!
Is there any chance that she is going to perform live with you again, perhaps even join you on tour?
Tom: Not on tour, no. Because she doesn't want to. But understandably so, because she's not that big a part of Evergrey. She has an extremely important position in the flavor of Evergrey, making us sound – good. But on the other hand she is also that extra flavor, she is not one of those five guys that do this every day. So she doesn't want to, we don't want to. But of course if we do a special show, of course she will be there. And I guess Floor would be there as well, if we could make schedules work, for sure. We always aim to bring as much as possible to the audience.
The Evergrey live album/dvd "A Night to Remember" was released in 2005, already 11 years ago. Perhaps it would be time for another live release!?
Tom: It's been a long time so, yeah!
Tom, in Matt Spall's (themanofmuchmetal) review I read that your daughter was part of the choir at the end of the opening track 'Distance'. Any more talented family members waiting to be discovered?
Tom: Well, I don't have any more, I hope… (Laughs) They're all there. Salina was also on the "Hymns for the Broken" album where she sings and growls, so she is quite the beast. I am sure she will become whatever she wants to be in music, because she is really talented. On the other hand, this is just an adventure for her to bring in her buddies from school, because she goes to that music gymnasium. So yeah it was a great thing. A great thing for us, because they are really talented and it sounds great!
Are there any new musical influences, bands/artist or particular styles within metal (or even without) that weren't there when you started out (more than) 20 years ago?
Johan: I think as musicians you're always listening to new stuff, you're always looking for new influences and inspirations. I think that's only quite natural. Specific stuff that we listened to recently?
Whatever comes to your mind thinking about 'well we started out being big fans of, let's say Iron Maiden, Dream Theater or whatever…'
Tom: We're still big fans of Iron Maiden!
Johan: We still listen to Somewhere in Time though… (both laugh)
Tom: We are such big music lovers that we listen to a lot of music, all the time. For this album especially. There is a french electronic band called M83 that influenced us a lot for the vibe of this album. So there are many things. But then at the same time there are also bands that have been with us from day one up to now also, like Iron Maiden, – Johan: Queensrÿche… – Tom: Yngwie Malmsteen… But I mean, modern bands that I listen to today, for me, that I listen to a lot: Bon Iver, it's not a metal band, Susanne Sundfør, is not a metal band, TesseracT, it's a metal band, Katatonia, wasn't there when we started. Well, they were there but I didn't listen to them. What else?
Johan: Anything and everything that is good, you know. Everything is an influence in the sense that you listen to something that you like and you get inspired, and you go 'wow, that's fucking great'. Or you hear something that maybe you don't like. And you get inspired to not do what they did. It is difficult, there are so many bands to listen to, so it's really difficult to single out any particular ones. We listen to, like I said, anything and everything.
I really fell in love with the song 'Memorial' from Susanne Sundfør's album "Ten Love Songs" last year…
Tom: I love "Kamikaze". Perfect production. Did you listen to her first album, too?
Not yet.
Tom: That's the best album ever made!
Would you consider yourself a Progressive Metal Band or how would you describe Evergrey's sound to someone who has never heard of you before?
Johan: The progressive label is kind of difficult.
Tom: It's kind of bland.
Johan: Yeah, I mean it doesn't really say anything. Because 'progressive' can mean like Opeth, Dream Theater, King Crimson, Genesis, but I mean, it can also mean Queensrÿche, Iron Maiden has progressive influences…
Tom: Very much so!
Johan: I mean if you listen to fucking 'Rime of the Ancient Mariner', that song is fucking 15 minutes long, if that's not progressive if anything… So if you consider that to be progressive, then yes, I think we're a progressive band. It's difficult. I don't think we think of ourselves as anything this OR that. We just make the music we want to do and that's fucking great!
Tom, please tell us a little bit about the lyrical side of the album. The press text said something about 'the biggest concept Evergrey has ever tackled'…
Tom: Well, biggest in the sense that we accomplished everything that we set out to do. Biggest in the sense that when we started writing, we had this image in our heads, and that image is exactly what you see in the videos that come out. Also biggest in the sense that we write about 'life', where people can relate to, almost everyone can relate to. The aspects of being the one who is left behind. Either being to death or being because your loved one left you. The album is about being the one left behind. It's about the thoughts and the irregular thoughts, it's about the violent thoughts, it's about the immoral actions. The feeling of pointlessness, meaninglessness. And it's also about celebrating the time that you had, just mourning what you did.
Listening to the album without the lyrics sheet, two little snippets accidentally caught my attention: "In search of truth" and "Torn". Did you hide all the Evergrey album titles on it just for fun?
Tom: (laughs) No, I didn't. But you're right, I sing 'In search of truth'. As for 'torn', I don't know. If you heard it it's probably right. But I think I sing 'torn' on every album…
How important is it to have FUN playing with the band and hanging with the guys for a band whose music is notoriously known for a pretty dark and desolate atmosphere?
Tom: 100% important!
Johan: It's everything! Absolutely everything. Because if you are on tour and you play every day for four weeks and all you do is getting up on stage and basically going down into a basement of darkness, if that's all you do, then you're gonna kill yourself. It's so important to have fun and if you're in a band with poor comedians, then you're pretty well set, you know. We have so much fun, it's great.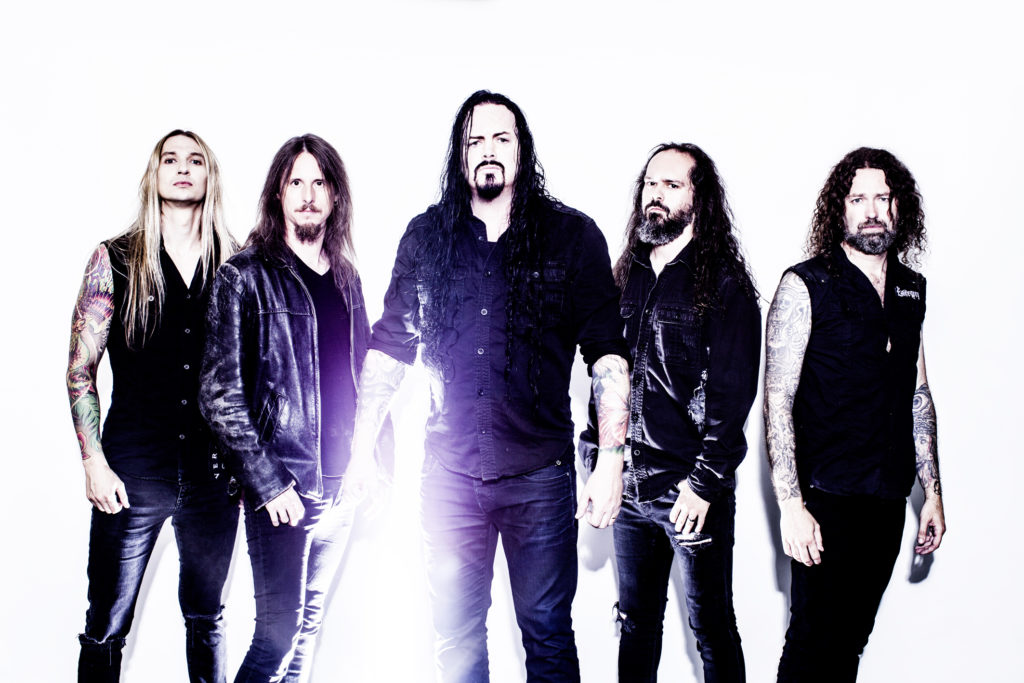 Johan, you used to play with a band called Mind's Eye. What happened to them?
Johan: Oh, I didn't see that one coming. Wow, that was several years ago. We actually do have material for another record but no label seems to be interested in releasing an album with us. We can't make the kind of record we want to make with the budgets we are offered. So probably it won't happen ever, unfortunately. We have a vision of what we want to do, but if we can't make it happen, then it's better left alone.
You are going to support Delain on a big european tour this fall. Don't you think it would be appropriate to celebrate the 20th anniversary of Evergrey with your own headliner tour?
Tom: We do that too. Next year. 21st anniversary! I mean it's a great opportunity for us to try out a few songs in front of an audience that is not necessarily ours, you know. So for us it's a good thing, the terms are great…
Johan: It's an opportunity to reach a larger audience.
Finally, Tom you stated in the press text that it was your life plan to release 10 albums. Will you quit now that you've reached this goal?
Tom: Of course! (All laugh) No, as it feels right now then we can go on recording albums forever because it's effortless and we are satisfied and also have made sure that we are doing things on our own terms. So, considering that, knowing this is not the end, I can see myself at least doing one album again soon, in two years, with the Evergrey guys. So it's not the end. It's merely the beginning. Maybe we're just half way.
On to the next ten albums!
Tom: Another ten albums? Probably not. (All laugh)
Surftipps zu Evergrey:
Homepage
Facebook
Twitter
Instagram
Pics: AFM-Pressefreigaben, Patric Ullaeus