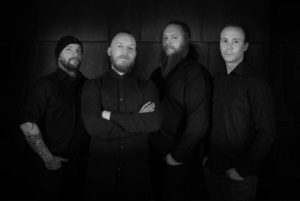 »The Norwegian prog family is big and still growing«
After discovering Weserbergland, the project of Ketil Vestrum Einarsen (eg. White Willow, Wobbler, Motorpsycho) the idea of a Norway Special was born. Ketil was involved in other projects, one of them the brilliant "Ultrasound" by Pixie Ninja.
Zur deutschen Übersetzung des Interviews
All english interviews on BetreutesProggen.de
Would you please provide some key information on the band?
Current line-up, discography etc.?
"Pixie Ninja" is a progressive band from Norway (way up north). We began our work on our debut album "Ultrasound" in May 2016, and released our album via Apollon Records in June 2017. Our current line-up is: Jostein Haugen, Marius Leirånes, Johan Hals Jørgensen and Geir Martin Langvad. "Ultrasound" is our debut album.
Which bands or musicians had most influence on your music?
It's hard to say actually. We are inspired by a lot of different musicians and music genres. Ironically, most of them are from Scandinavia.
How would you describe your music in just one sentence?
A retrofuturistic candybag.
Is it a studio-only project or do you also play live? If yes, any chances to see you live in Germany/Netherlands/Belgium one day?
When we created "Ultrasound", we never intended to play live concerts. But later on we received so many demands regarding live shows, that we agreed upon making it happen. We are currently working on a live set as we speak. It's possible that we stop by Germany/Netherlands/Belgium one day. We would love to play there.
Is there a well-interconnected Norwegian scene or is it more of a status of lone fighters?

Definitely a well-interconnected scene. At least in the southern part of Norway. Up here in the northern part where we live, the progressive music environment is hardly nothing at all. But thanks to the internet we can communicate freely with other bands across the country. The support and enthusiasm we share with each other is outstanding.
Is there a fruitful connection with the Swedish or Finnish prog scene?
Absolutely. We have great connection with the Swedish progressive music environment. Our producer is the legendary Mattias Olson (Necromonkey, ex-Änglagård). Mattias recorded drums and other various instruments on our debut album. We do not have any connection with Finland so far. But who knows what tomorrow brings.
There are so many excellent bands in the current Norwegian prog scene – what do you think are the reasons for this? Any Norwegian-specific aspects that might lead to this?
We think that there has always been great progressive bands here in Norway. You have bands like: Junipher Greene, Aunt Mary, Ruphus, Høst (to mention some), from way back to the seventies. And many more. And today we have bands like Motorpsycho, Jaga Jazzist, Ulver, Wobbler, White Willow, Weserbergland, Suburban Savages, Glutton, Arabs In Aspic and many many more (seriously, the list goes on forever). "Pixie Ninja" is a relatively new band, so it's hard for us to say what made the prog scene to what it is today. We are pretty new in the "game" you could say.
How did you get into contact with Apollon Records?
That is all thanks to our good friend Ketil Vestrum Einarsen. Who also happens to play flute on our album. He was already signed to Apollon Records with his own band (Weserbergland), and he recommended that we should reach out to Robin Mortensen, the man behind Apollon Records. So we contacted him, and a few months later we signed with that company. Apollon Records is a great place to be, the prog family is big, and it is growing as we speak.
Where do you see the band in let's say 5 years? Do you think you will still release music on CD or will CD disappear and all your music will only be available through downloads or platforms like Spotify/iTunes? Where do you position vinyl?
If all is well, we hope to still be playing live shows, create new and exciting music, keep expanding as musicians, and grow as a band. We love what we do, and we hope to continue doing this for many years to come.
We will always release our music on Vinyl/CD, as long as the formats keep existing, of course.
Surftipps für Pixie Ninja:
Bandcamp
Facebook
Twitter
Soundcloud
YouTube
Spotify