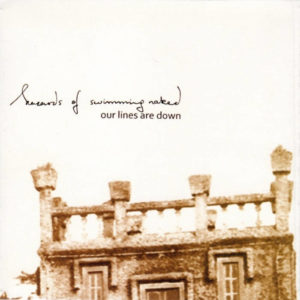 (55:36, CD, Digital, Bird's Robe Records, 2009 / 2021)
Weiter geht's auf der Entdeckungsreise der '10th anniversary series' von Bird's Robe Records. Mit "Our Lines Are Down" kommt nun das Debütalbum von Hazards Of Swimming Naked an die Reihe. Einem Kollektiv aus dem australischen Brisbane, das nicht gerade durch eine Fan-freundliche Veröffentlichungspolitik glänzt. "Our Lines Are Down" erschien 2009, der Nachfolger "Take Great Joy" ganze neun Jahre später. Nun heißt es '….'Our Lives Are Down" remains one of the most beloved Australian post rock albums and is a landmark record for the band…', was ja schonmal eine Ansage ist.
Der Erstling von HoSN besticht auch heute noch durch die hier gebotene schiere Abwechslung, während die Laut- und Leisemomente – sonst quasi eine Blaupause im Post-Rock-Universum -, hier mal gar nicht so markant sind.
Das durch Sprachsamples eingeleitete 'Requiem' mündet in einer noisigen Apokalypse, das relativ freundlich swingende 'Sparks Fly' bekommt auch seinen Moment gesteigerter Aufmerksamkeit während '…and a whole assortment of uppers and downers' und 'Don't Cry For Me, Dario Argento' schon mal dynamisch energetisch in die Vollen gehen.
Ein eher ambient flimmerndes 'Dreams Don't Come True' schafft derweil Raum, für die Dinge, die dann noch folgen sollen, wie etwa das mit seinen siebeneinhalb Minuten längste Stück des Albums, 'Kip Keino', das wirkt, wie ein erfrischender Frühlingsregen, das erst sanft dahinplätschernde und dann zu einem reißenden Gewässer anwachsende 'Aaber Dekha Habe' und das final noch einmal alles auf eine Karte setzende 'Reverie'. Da kann man wohl von zeitloser Ekstase sprechen.
Bewertung: 13/15 Punkten
Surftipps zu Hazards Of Swimming Naked:
Facebook
Twitter
YouTube
Instagram
Soundcloud
bandcamp
Spotify
Deezer
ProgArchives
last.fm
Rezension "Take Great Joy (2018)
Abbildung: HoSN / The Bird's Robe Collective