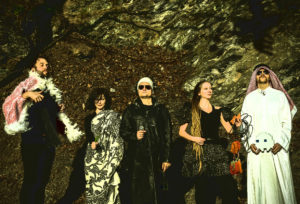 »Germany, the Netherlands and Belgium are on top of our wish list «
Having just released a brilliant debut album, that should appeal to fans of retro prog with Zeuhl touches, an interview with this band was inevitable. Drummer and main composer Trond Gjellum introduces the band – and we learn that this is not really their debut album.
Zur deutschen Übersetzung des Interviews
All english interviews on BetreutesProggen.de
Would you please provide some key information on Suburban Savages?
Current line-up, discography etc.?
The current line-up of the band is …
Trond Gjellum: Drums, percussion, lead and backing vocals, programming, keyboards
Anders K. Krabberød: Bass guitar and bass pedals
Nina Hagen Haldhol: Electric guitar and Moog guitar
Thomas Meidell: vocals and electric guitar
Mari Lesteberg: Keyboards
On the "Kore Wa!" album, Hans-Petter Alfredsen played keyboards and Ketil Vestrum Einarsen (from Weserbergland, White Willow, Jaga Jazzist and so on) played flute and did some vocals.
We are all from Norway, around the area of Oslo. None of us are full time musicians: I am working as a teacher, three are students at the University of Oslo and one is doctor in biology at the University of Oslo.
"Kore Wa!" is the first album under the name of Suburban Savages, but a nearly identical line-up released an eponymous album in 2007 under the name of tr-Ond and The Suburban Savages. We have also released a couple of cd-r demoes, which hopefully will be re-released in 2018.
Which bands or musicians had most influence on your music?
To name all that have influenced me, is impossible. I like good melodies, interesting harmonies and creative arrangements, and I can find that in all kinds of music. Therefore, my record collection contains all kinds of music, like 70's prog, pop from all eras, heavy metal, punk, new wave, electronica, folk music, classical music, indie and so on.
My favorite genre is progressive rock, and some artists are more important of inspiration. I like most of the «classic» prog bands like Yes, Genesis, King Crimson, Gentle Giant, Van der Graaf Generator and so on. The Canterbury-bands like Hatfield and the North and National Health are also favorites of mine, especially because of their unique combination of pop-like lyricism and avant-garde. I am also fan of RIO (Rock in Opposition) bands like This Heat, Univers Zero, Henry Cow, Art Bears, Aksak Maboul, Samla Mammas Manna, Lars Hollmer, Fred Frith and so on. I also listen to newer acts like 5uu's, Thinking Plague, Battles, Anna Meredith, Knifeworld, The Mercury Tree, Zombi and Aquaserge. I am also a fan of early Tangerine Dream and Klaus Schulze, Neu! and Can.
How would you describe your music in just one sentence?
That is not easy, but the following quote of the "tr-Ond and The Suburban Savages"-album sums it up well: "A sort of mishmash between Brian Eno's experimental pop music, Gentle Giant's counterpoint exercises, Happy the Man and Kit Watkins' joyful progressive rock, Lars Hollmer's sentimental melodies, Steve Reich's minimalism and post rock with a twist".
Is it a studio-only project or do you also play live? If yes, any chances to see you live in Germany/Netherlands/Belgium one day?
We are indeed a performing band. I like to perform live, because the response from the audience shapes the performance and gives each concert a unique quality. It's also fun to be on the edge, because when you're playing live, you've got no way back – you must do your best there and then. I like to play in clubs, because you get close to the audience and can sense the atmosphere in a totally different way than when you are up on a stage, meters away from the audience.
We've gradually built up a nice reputation as a live band but besides a couple of gigs in the western parts of Norway, we have only played in clubs in Oslo. We hope that we can manage to play abroad, and Germany, The Netherlands and Belgium is high on the list.
Is there a well-interconnected Norwegian scene or is it more of a status of lone fighters?
Is there a fruitful connection with the Swedish or Finnish prog scene?
The Norwegian prog scene is quite healthy and varied with all kinds of bands, from the derivative, seventies influenced bands that try their best to sound like Genesis with Gabriel, bands that are more into prog metal, to bands that try to do something new with a basis in the "traditional" progressive rock and mix it with things like jazz, folk, electronica, and so on. The last few years we have seen more and more collaborations between bands, especially concerning arranging concerts and festivals. We have also got a few good labels, like Apollon, Karisma and Rune Grammofon, that are very good at supporting Norwegian artists, but many artists also release albums on their own.
Up until a few years ago the audience were mostly middle-aged males, but now it is more varied. Progressive rock has become kind of hip, and on a lot of concerts you can see more girls and younger people.
To my knowledge there is some connection between the Norwegian and Swedish scene, but very little with the Finnish and Danish scene.
There are so many excellent bands in the current Norwegian prog scene – what do you think are the reasons for this? Any Norwegian-specific aspects that might lead to this?
I think a reason why we have so many excellent bands in Norway, is caused by practicalities more than ideology or culture. As a musician you want your music to be known, but if your music does not get any exposure, you get tired and then you quit. Therefore, you need possibilities to get your music known to a potential audience.
Through the years be that we have had people that have played the music on radio, both on national and local broadcast and in that way given the music exposure to a broader audience and kind of reminded them that progressive rock still exists. We have also had the fanzine Tarkus from 1997 to 2010, a fanzine that had a lot of readers and gave many up and coming prog bands the much-needed exposure to an audience that was interested in this kind of music. It has also been quite easy to arrange concerts and thus be given the opportunity to present the music to an audience and get the response that propels the creative processes.
How did you get into contact with Apollon Records?
We recorded and mixed the album ourselves between 2013 and 2016, and after mastering the album, we were looking for a deal. Ketil from Weserbergland had contract with Apollon, and he gave Robin (the label manager) a hint about that we had an album we wanted to release. Robin was very interested in releasing it, and in October 2016 we signed a deal.
Where do you see the band in let's say 5 years? Do you think you will still release music on CD or will CD disappear and all your music will only be available through downloads or platforms like Spotify/iTunes? Where do you position vinyl?
I think CD will exist in the near future, mostly because it is a good format for spreading music with high sound quality, and because a lot of people still like the physical format. Even if downloads and streaming is more geared towards listening to individual songs, I still believe in the album as a concept, because a lot of people still can relate to a long, continuous story consisting of various parts. Even if I would make separate tracks available for download, I still think that I would like to make a batch of songs that in some way relate to each other in mood or style, just like an album would do.
The vinyl resurgence is an interesting phenomenon, but I don't think it will be anything else than a format for enthusiasts. It's too expensive and unpractical to be a large scale format for the common music consumer.
Surftipps zu Suburban Savages:
Facebook
Bandcamp
Soundcloud