»They wouldn't get it«
The same procedure as (almost every year): after the announcement of a new Motorpsycho album there's as much anticipation as there is trembling: will there be disappointments and first cracks in the monument pedestal of this fav band? There even had been one oft he rare changes in set-up, as drummer Kenneth Kapstad (Spidergawd) had left the band after a phantastic show at Cologne in April '16 and has since been replaced by Tomas Järmyr. Bass player/Singer Bent kindly answered our questions from the tower's turrets.
Congrats on the new line-up and the new album!
Thank you!
All english interviews on BetreutesProggen.de
How did you find Tomas and what has changed since he joined the band?
Thomas has studied at the Jazz conservatory here in Trondheim for a few years and has been active in the jazz/noize/rock scenes here in town for a while. We knew of him and his work (and vice versa) and he fit the ticket right away when we tried playing together.
His drumming style is quite different from Kenneth's – less lateral, and (mostly) less busy and more to the point. This makes the songs sound different and the whole rythmic feel of the band has shifted. It's different and really exciting!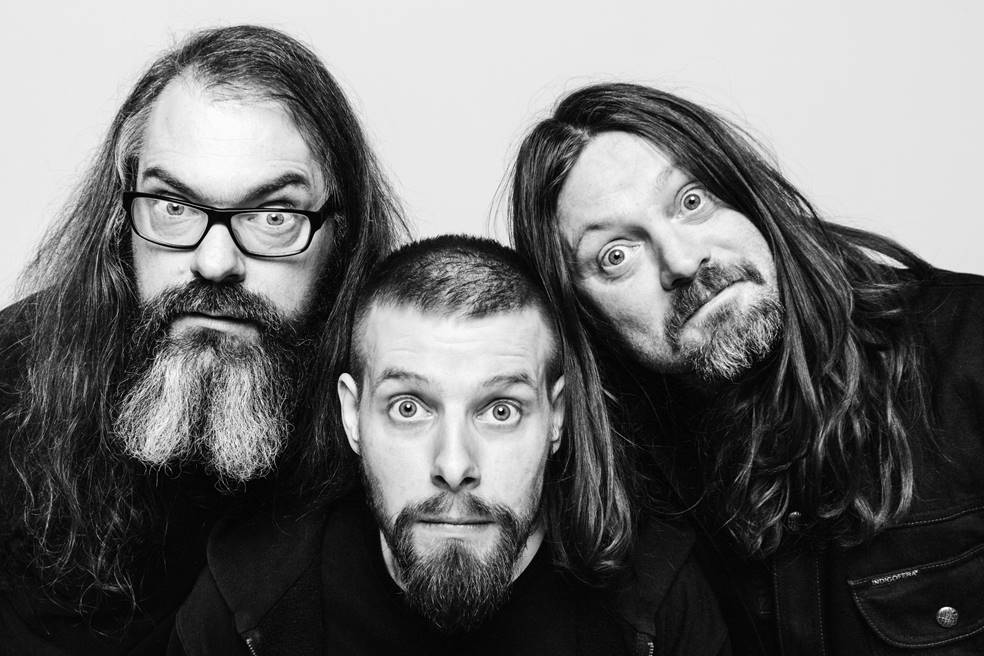 Who is guest musician Alain Johannes?
Alain was in a highschool version of what became the Red Hot Chilli Peppers back in the early 80s, and has been a key figure of the LA rock scene for 30 years. He was the main man in Eleven and he's worked with QOTSA for a few years as well. An all around great guy who now is bandleader with PJ Harvey. That commitment (and having to move house) was the reason he took only part as musicion, not as producer.
I think I've got an idea of how a "cigar box guitar" might look like. But what is a "messenger guitar"?
It is an old american electric guitar made in the 60s, mainly out of aluminium. Alain has one and played it on a couple of songs.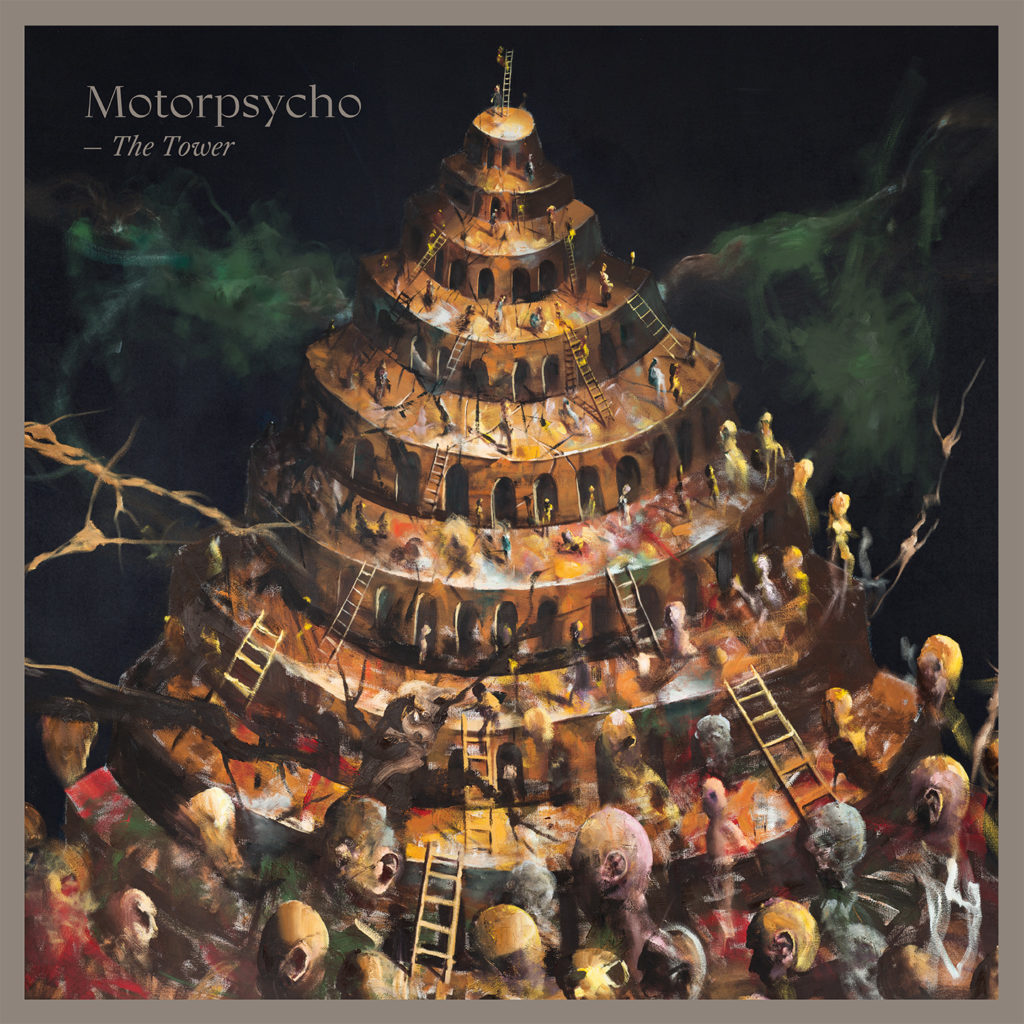 Motorpsycho – The Tower
(43:25+41:19, 2CD, Psychobabble/Stickman/Soulfood, 2017)
Bewertung: 13/15 Punkten (GH 13, KR 13)
The beautiful Cover (done by Hakon Gullvag shows the tower of babel, I think. Is "The Tower" a concept album in this sense – breakdown of communication etc.?
Håkon Gullvåg is one of the most respected and revered painters from Trondheim. This was an existing painting that he let us use. It is called "The Tower of Babel", and was painted for an exhibiton at the Nidaros Cathedral a few years ago. "The Tower" isn't a concept album in the sense that there is a storyline or a plot, but the words were all written around the time of the american election last year and were clearly affected by the prevailing mood, so maybe there's a theme to it? You can read that into it if you try, I'm sure!
A couple of songs, especially 'The Maypole', seem to have a Crosby, Stills, Nash feel – comprehensible?
That song was started while Reine Fiske from Dungen was in the band, and it kinda is my take on their thing. That psych thing has a little more vocal-focus than what we usually have, but it is harmonicly of a piece with a lot of stuff we've done before. CSN&Y are an arch type when you talk about harmony vocals, and you can't really avoid sounding a little like them if you go there. But thanx for the complement – we do our best!
You chose Dave Raphael (a.o. Brant Bjork) instead of Thomas Henriksen as (executive) producer this time – why?
We've known Dave for a few years and have worked with him on two Sugarfoot albums before this, so we knew what he had to bring to the table. It was great for us to go to a new country and work with new people this time around, and I think you can hear it too! We'll probably work more with Thomas in the future, but for this one it felt right to try something new.
Why the Rancho De La Luna?
I've been there twice before with Sugarfoot and know the vibe. We kinda needed that air on this album to contrast all those big, heavy songs, so we went there for a few days and hippied out. I love Dave Catching and am totally captivated by the vibes and the feel out there, and it was great seeing Snah and Tomas react to it too!
»We have no ambition to become mainstream artists – our strengths and our interests are on the side of whatever the mainstream is these days, and … frankly: they wouldn't get it!«
Other prog artists get signed to "major" labels in order to become pop stars, you remain with the small german indie Stickman – why?
We have no ambition to become mainstream artists – our strengths and our interests are on the side of whatever the mainstream is these days, and … frankly: they wouldn't get it! It'd be nice to sell a bunch of records, but we have no talent for popstardom or arena concerts, and prefer to work the way we do. We flirted with the mainstream back in the 90s, but we didn't like it much and the negative sides seemed to outweigh the good ones, so we never had that kind of ambiton again. Motorpsycho has become a niche band, and there will always be people who find something in our music that nothing else provides, and that is fine by us: the bands we like aren't really million sellers either, and fame has nohing to do with anything. In this context Stickman does a great job in Germany and elsewhere, and we're happy to work with someone who gets it!
»Last year I listened a lot to Ligeti, Bartok and Stravinsky, as well as to Van der Graaf Generator and Magma«
You spoiled your fans with 31 records so far. Though most of them share a special beauty, many of them differ quite a lot in lots of aspects. Compared to e.g. Tool on the other end of the scale – how do you manage to keep your creativity THIS creative?
Hey, thanks again!
Well, we've always tried to keep an open mind about music, and are not really interested in "styles" as much as good music – whatever the instrumentation may be. Variety inspires us, and we always seem to be interested in something new each time we do new music, so therefore it changes too. The fact that we never had a hit or sold huge numbers also keeps the pressure to follow up a success away, so we are fortunate enough to do what we really want to do. Last year I listened a lot to Ligeti, Bartok and Stravinsky, as well as to Van der Graaf Generator, Magma and other "esoteric rock" groups, and that probably explains some of this one compared to "Here be Monsters". I dunno – it's hard to trace these things, but whatever you digest will influence your own stuff. Keep an open mind and try not to compete with yourself from last year!
More on Motorpsycho:
Official Homepage
Homepage (less official, w/ Forum)
Facebook
Twitter
Interview: Bent Sæther zu "Here Be Monsters" (german)
Interview: Bent Sæther zu "Here Be Monsters" (english)
Konzertbericht, 28.04.16, Köln, Stollwerck
Konzertbericht, 19.06.14, Düsseldorf, Zakk
Konzertbericht, 04.08.12, Bad Doberan, Zappanale
Interview m. Bent zu "Behind The Sun" (Empire Music No. 105):


Bent Sæthers Top Five Songs (All Time Favs)
YouTube
Spotify
Soundcloud 1
Soundcloud 2
Wikipedia
Band-Fotos: Stickman, Live-Foto: Tobias Berk