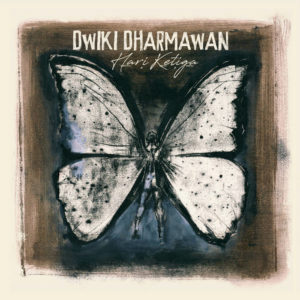 (76:18, 78:22, Digital, 2CD; Moonjune, 19.08.2020)
"Hari Ketiga (The Third Day) – An ImprovOpera In Nine Acts" – Noch Fragen, Kienzle? Die handelnden Personen sind The Earth (Mother), The Man (Son) und The Event Horizon (Father). Au Backe. Allwissender Waschzettel, komm', hilf' aus. Und das tut er, der Gute:
Bearing that in mind, the lyrics wound up being a mix of multiple influences: David Bowie's "Space Oddity," mixed with a dash of early King Crimson, and even Latin poet Lucretius' philosophical poem De Rerum Natura.
Was sich verdächtig nach verkopfter Schwerstkost anhört … ist es zumindest streckenweise auch. Aber so was von. 'The Earth' hebt noch trügerisch ruhig und leise an, mit perlenden Flügel-Figuren und dem sanft einsteigenden Gesang (auf Italienisch) von Boris Savoldelli. Ab etwa der Hälfte des 28 Minuten laufenden Stücks werden die Harmonien freier, die Themen voneinander unabhängiger und es kommen auch ausgesprochen dissonante Ausbrüche vor. "Muss man für sein", wie Sauerländer sagen:
'The Man' wuchtet sogar 34 Minuten auf die Uhr und konfrontiert den Hörer mit avantgardistischem, textfreien Jazz-Gesang. Aber auch mit der betörend-infernalisch grummelnden Touch Guitar von Markus Reuter, die selten besser geklungen hat. Doch sehen wir den Tatsachen ins Auge. Den Autor haben die Spitzenmusiker an dieser Stelle bereits gründlich abgehängt. Das klingt stellenweise wie ein Mix aus Zappa, Devin Townsend, Magma, George Gershwin auf LSD und NichelOdeon. Nur für wirklich Hartgesottene also. Interessant und gekonnt ist das aber fraglos alles.
Bewertung: Ohne
Line-up:
Dwiki Dharmawan – Acoustic Piano, Mini Moog, Fender Rhodes, Harmonium, Occasional Vocal & Ambient Noises
Boris Savoldelli – Vocals, Vocal Effects, Live Electronics
Markus Reuter – Touch Guitars® AU8, Live Electronics
Asaf Sirkis – Drums, Cymbals, Occasional Ambient Noise
with:
Jeremias Pah – Voice & Sasando (track 6)
Endi Pah – Voice and Tambur (track 6)
Jonas Mooy with Inggu Ndolu Art Group – Voices, Sasando, Gong and Tambu (track 7).
Surftipps zu Dwiki Dharmawan:
Facebook (Page)
Facebook (pers. Profil)
Twitter
Instagram
Bandcamp
Spotify
iTunes
YouTube
Wikipedia Indonesien
Rezension "Rumah Batu" (2018)
Rezension "Pasar Klewer (2016)
Abbildungen: Dwiki Dharmawan / Moonjune Records