Mark Wingfield, Jane Chapman, Adriano Adewale – Zoji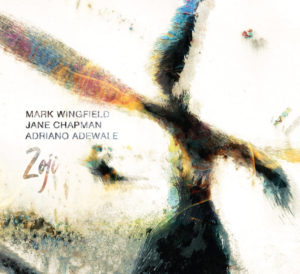 (64,50:, Digital, CD; Moonjune; 01.01.2021)
Mark Wingfield ist ein großer Geschichtenerzähler an der Gitarre. Kein Genudel, sondern intensiver Ausdruck, der den Autor schon mal an seinen persönlichen Abgott Jeff Beck erinnert hat und der schon in Jahres-Top-Ten-Listen gelandet ist, 2017. Für "Zoji" hat sich der Brite mit Jane Chapman (Cembalo) und Adriano Adewale (Percussion, Vocals) zusammengetan, was allein von der Instrumentierung her schon mal ein erfrischend "anderes" Trio ergibt. Oder wie Sid Smith (u.a. PROG Magazine) in den Liner Notes schrob:
"Parallel Times. Dizzying constellations of notes netted within the soundboard of the harpsichord, quill-plucked and sent spinning in darting arcs and ascending steps… Harmonic fog adrift from which notes slip out in silvery streaks, gleaming with passion, while some, disconsolate, fall into dark silence snuffing out their glow."
'City Story' führt elegant in diese exotische Klangwelt ein, in einen einzigartigen Mix aus ganz alt (Wer denkt bei Cembalo nicht an J.S. Bach? Oder zumindest an Miss Marple?) und ganz jung (eine wundervoll zerrende E-Gitarre). Aus (manchmal) barocker Strenge und der improvisatorischen Ungebundenheit von Adewales Percussion-Spiel. Das ergibt heftige Kontraste, ja Reibungen. Zum Nebenherhören ist das jedenfalls nichts.
Dies ist 'Parallel Time', in der Live-Version als Duo:

Und dies 'Smouldering Bridge' live, ein Non-Album-Track:

Das Material stammt überwiegend von Wingfield, aber nicht nur:
"'Pasquali's Dream' is inspired by his instruction book written in 1763 on how to play figured bass. 'Prélude Sinueux' is based on an anonymous unmeasured prelude from the early 18th century."
Ein spannendes, aber auch forderndes Album.
Bewertung: 10/15 Punkten
Surftipps zu Mark Wingfield:
Homepage
Facebook
Twitter
Bandcamp
Soundcloud
Spotify
Instagram
YouTube
Reverbnation
last.fm
ProgArchives
Wikipedia
Rezension Asaf Sirkis "Solar Flash" (2021)
Rezension "Tor & Vale" (2019)
Rezension "Tales From The Dreaming City"
Abbildungen: Mark Wingfield / Moonjune