Ledfoot – Black Valley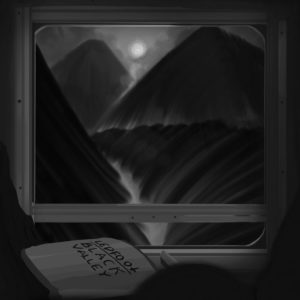 (35:35, CD, Vinyl, Digital, TBC Records/Broken Silence, 2021)
"Down in black valley, Where nobody goes, I left my true love, Alone in the cold, Down in black valley…", Auweia. Dazu noch weiterführend Titel wie 'Without Love', 'Broken Eyes', 'Take Away The Hurt', 'Poor Man's Lullaby' oder 'Falling Down' – Tim Scott McConnell alias Ledfoot findet sich auch auf seinem aktuellen Album tief in der Schlangengrube unstillbarer Trauer wieder. Dabei hat der norwegische Singer-/Songwriter als Autor schon einige Hits auf der Pfanne (Sheena Eastons 'Swear' sowie Bruce Spingsteens 'High Hopes'), weshalb man sich schon fragt, woher die dunklen Gedanken, umrahmt von noch dunkleren Dark Folk kommen (sein letztes Soloalbum als Ledfoot trug immerhin den hoffnungsvollen Titel "White Crow").
Ähnlich den düsteren Stillleben eines Mark Lanegans oder David Eugene Edwards' wandelt Tim Scott McConnell in sparsam arrangierten Düsterballaden, die bei allzu intensivem Gebrauch mächtig an der Substanz zehren.
»Let's not talk about the future, I don't need it fucking with my mind, I'm not chasing after rainbows, I'm colorblind, with broken eyes«
Dann lassen wir am besten doch gleich die Sonne aufgehen!
Bewertung: 9/15 Punkten
Surftipps zu Ledfoot:
Homepage
Facebook
Bandcamp
YouTube
Instagram
Soundcloud
Spotify
Deezer
Wikipedia